---
WHAT'S A SERVICE LIKE?
9:30am – Worship at Federated. Worship is meeting in-person and streamed online. To watch virtually – Visit "Live Stream Worship" under "Resources" on our website. Worship will be available online after 1pm on Sunday's.
Greeters hand out announcements for the week. The service begins with a time of singing led by the praise band and traditional hymns. The praise band includes a combination of piano, guitars, drums, bass, and singers. Traditional hymns are played on the organ and anthems are sung by the choir. Liturgy is printed in the bulletin to be read responsively as part of worship. Praise songs will be on the screen. (Service details subject to change as we adjust to safe protocols for COVID-19.)
10:15am – SUNDAY SCHOOL
Sunday school classes for preschool – 6th grade meet at this time.
The adult bible study meets in the parlor and includes a discussion-based study led by Pastor Doug. Adult bible study is not meeting at this time.
Fellowship is a time to get to know others in The Federated Church and strengthen relationships with the people you already know. Coffee, juice, water or tea; and cookies or crackers are available downstairs in the fellowship hall. Fellowship is not meeting at this time.
Occasional cross+generational Sunday school classes are held in the fellowship hall. Everyone is invited to participate in these times of connecting with one another, having caring conversations, and growing in faith together across generations.
---
FIRST SUNDAY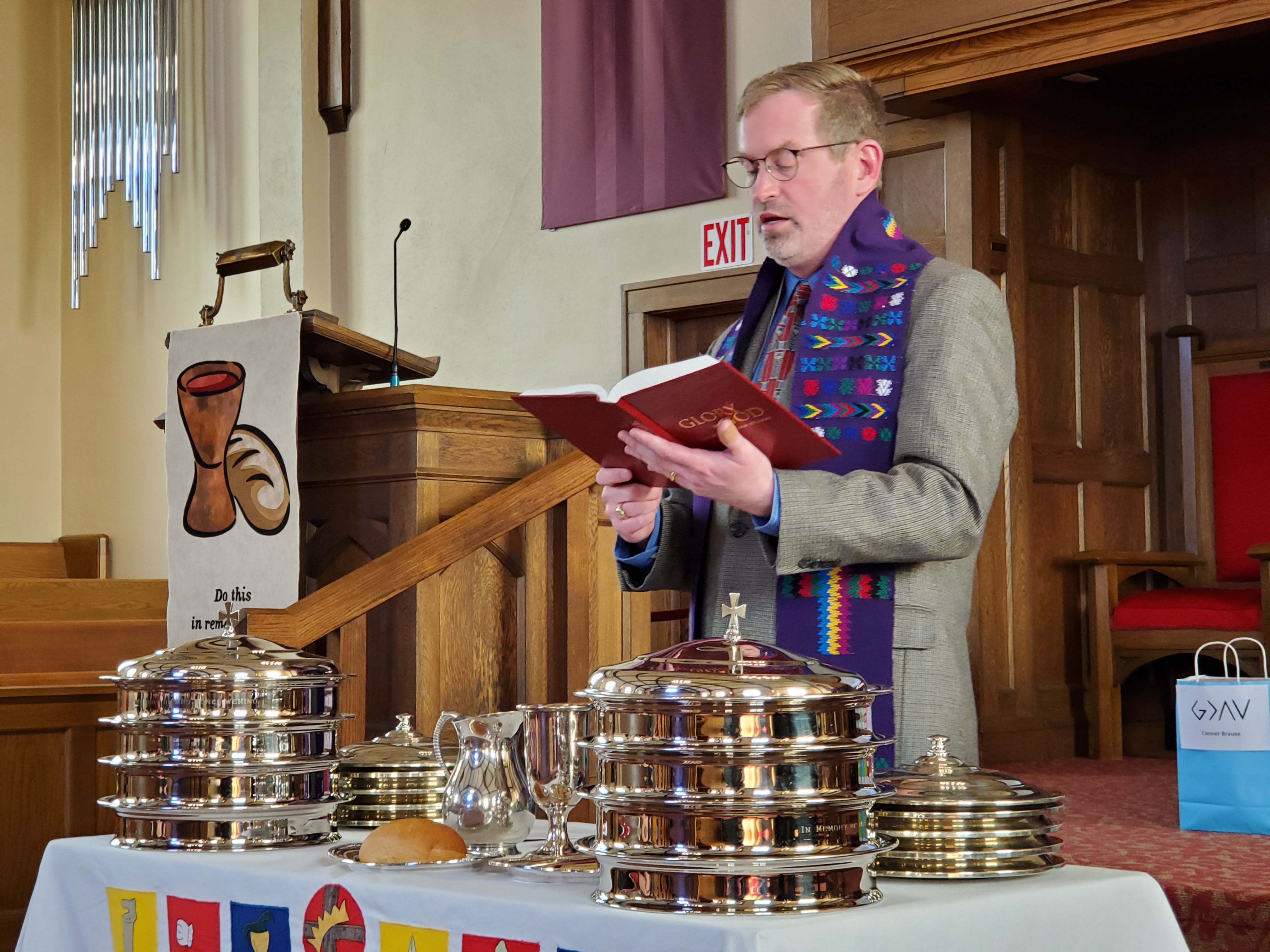 COMMUNION
Communion is celebrated together every first Sunday of the month. At the contemporary service, the congregation is invited to come forward via the center aisle and take a piece of bread and a communion cup.
The congregation remains seated and is served by the Deacons and Elders.
KNOW YOUR NEIGHBOR
The Caring Ministry and Outreach Committee provides name tags as you enter the Narthex to provide another way for people to be refreshed on each other's names.
FOOD SHELF SUNDAY
The Federated Church has designated first Sundays for our community Food Shelf and encourage members and visitors to make a financial gift for this program
BLOOD PRESSURE CLINIC
Blood pressure clinics are supervised by our Parish Nurses during the fellowship hour. (No appointment is necessary.)
---
AT ALL WORSHIP SERVICES
NURSERY
The nursery space is staffed with volunteers during the 10:00am service. The Narthex is also available and provides a comfortable space for parents to be with their children while still being able to see and hear the worship service. Activities for young children are available in the Narthex. The nursery is currently closed at this time till further notice.
HANDICAP ACCESSIBILITY
The Federated Church provides curbside assistance, if needed, and has wheelchairs available. The elevator is accessible from the main level, and opens to all three levels. Several of our pews have been modified to accommodate wheelchairs and walking assists. We also have "Hearing Boosters" and large print Bibles.
PARKING
Federated has a parking lot and side street parking. Outdoor bike parking is also available.